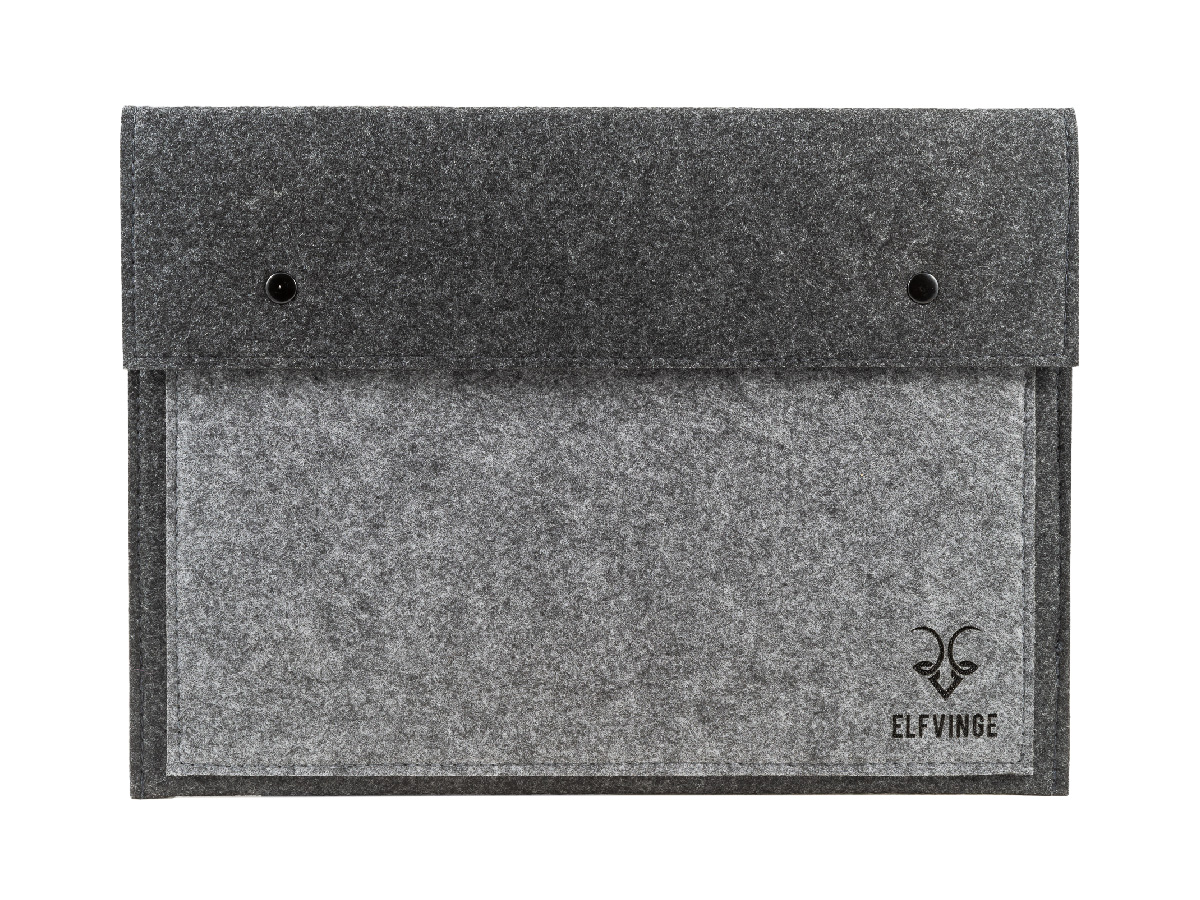 Laptop Cover Felt – Bradford
The Laptop Cover Felt Bradford from Elfvinge lets the material talk for itself. We are embracing classical Swedish design traditions and puts the cover's features in focus. Elfvinge's Bradford laptop cover in felt is made out of 3 millimeter thick felt. It gives a great soft touch, protecting your computer against accidental scratches, light drops, dirt and dust. This keeps your computer and documents safe wherever you go. The product is handcrafted and the strong buttons keep the cover closed, making sure everything is in its right place. The frontpocket on the cover allows enough room to store your cell phone, adapters, notebook, pen and other small gadgets.
Product Description
Felt is a material made of wool, a renewable, sustainable and environmentally friendly resource. A natural product that requires very little environmental impact processing, which is important to us. Something we learned growing up, and became more aware of during our years on the University. In Sweden about 75 percent of all wool is burned every year as its area of usage is too small. In a time when it is more important than ever to reuse and recycle we created Elfvinge. With an elegant, simple, Scandinavian design, we hope you enjoy your products as much as we do.
When we created the felt laptop cover Bradford, we planned into every detail. Everything is thoroughly worked through, and the pocket creates excellent possibilities to bring more stuff than just the computer. The first felt computer cover that is produced in a limited edition.
Product Information
Additional information
| | |
| --- | --- |
| Laptop size | |
| Dimensions | |
| Inner dimensions | |
| Thickness of wool | |
| Layers of wool | |
| Button | |
| Color | |
Cover Collection
Keep the perhaps most important tool in your everyday life safe with a case made in felt. We believe that together with your laptop, you strive to achieve your goals and are inspired to continue using your creative personality as well as keeping in touch with loved ones. We want to thank you for everything you do, and encourage you to continue, along with a case from Elfvinge.
Cover Collection is a timeless collection that ages with dignity. Each stitch is well thought out and through the placement of pockets and buttons we hope that the cases will serve you as they have served us – from all the years at university, into working life.
Shipping
Elfvinge delivers its products worldwide. Deliveries in Sweden are made in cooperation with the PostNord. You have the right to cancel an order and return goods by contacting Elfvinge's customer service or by using the contact form on our website, which you will find here, within 14 days of receiving the goods. However, this is subject to the goods not being unpacked and being in the same condition as when you received them. The cost and the risk of transporting goods you want to return to Elfvinge are imposed on the customer.
If you, as a customer, feel that the delivery of an item is unusually delayed, which means that you no longer want to make the purchase, it is your responsibility to make a cancellation. If the shipment has already been shipped, the customer must receive the order. Cancellation is not valid until a confirmation has been received from Elfvinge via email. If a product is no longer sold, Elfvinge has the right to cancel the purchase and make a refund. Elfvinge will inform the customer if a returned product or a corresponding product is available.
Need help?
Do you have any questions? Start by taking a look at our FAQ, if you don't find an answer on your question, please contact us.